1-P Blues Hard Coy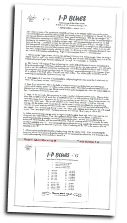 This song is a study of 1st position or straight harp blues in the straight eight note rumba groove. The very first known recording of blues harp was actually played in 1st position on January 31, 1924, and up until John Lee Williamson and Sonny Terry started recording in 1937, the percentage of 1st and 2nd position. . .
3 P Blues Hard Copy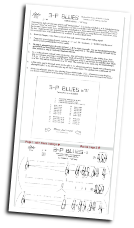 This song is a study of what harp players call "third position." It is playing with hole 1, 4 & 8 inhale becoming your new "home" or "root note." Third position was first recorded by Little Walter in December, 1951 and has become a part of nearly every professional's sound and style, being used somewhere from 10% to 25% of the time. It can become very helpful when navigating through minor key songs but as this piece shows, does not necessarily have to be used exclusively as minor. It works with all blues.
3pm Rumba Hard Copy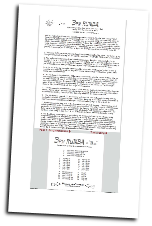 This is a study of the blues rumba played in a minor key similar to Howlin' Wolf's song, "Who's Been Talking" and executed in third position, Bm on an "A" harp. Third position is very minor key friendly but there are still bad notes. Generally want to avoid hole #3 played unbent and hole #7 inhale. You can also get into trouble bending hole #4 down flat. It can also sound very square and sterile if you don't know how to work the bends. Also remember that a rumba groove is not a shuffle or swing. It is a straight eight note groove. This song also has a stop on bar 12 where the band stops playing. I encourage you to learn how to signal this by dropping a raised arm exactly on bar 12.
4-H Blues Hard Copy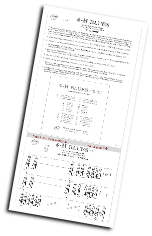 This song is a melodic blues with four variations and one solo tht is a detailed study in playing all the available notes on hole 4 of your "C" and "F" harps. While many people would agree that hole 4 is the easiest to bend, my experiences is that not enough players can bend it consistently with skill and confidence. When you can play this on "C," try it on the notorious "F" harp. Please note that the individual pages are only played on the "C" harp. Instruction set includes 30 tracks and 7 instruction sheets.
5-P Blues Hard Copy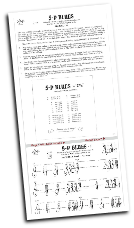 This song will help you to play in what is known to most harp players as 5th position. Instead of having the 2 hole inhale as your root, it is now your 2 hole exhale. This position is great for minor keys as the flat 3rd, flat 6th and flat 7th are readily available. While this particular arrangement will work great for "C#m," it also works just as well for the key of "C#," more commonly known as "Db." Your greatest challenge on this piece will be to avoid the "danger tones" which are 1 & 4 exhale and 5 inhale. This piece will also work without a "Quick IV."
6-P Blues Hard Copy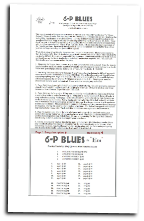 This song is a study of the 6th position with a nod to Rice Miller's "Help Me" and Booker T's "Green Onions." Please do make note that "Help Me" was NOT played in 6th position nor am I implying that it should be. Just happens to work fairly well. The very first known recording of blues harp in 6th was played by Eddie Mapp in a Curley Weaver song called "No No Blues" on May 26, 1929. There doesn't appear to be any other recordings of 6th until Little Walter took a one-chorus chromatic harp solo in an instrumental called "That's It" on July 23, 1953. 6th position is the most uncommon of the 7 modal positions. I personally have found that there is a fair amount of potential for it is as a blues position and hope to convey that potential in this piece.
B. S. Blues Hard Copy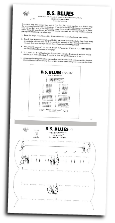 This song is a study in the six not blues scale. This is one of my more difficult songs due to the exacting bends needed on hole three. If your bends here are weak or sloppy, the minor key blues will not likely work as well for you as the standard blues, which is more forgiving of sloppy bends. Being able to confidently and accurately play the blues scale will add many possiblilites to your playing, including playing over minor keys. . . .
B1 Blues Hard Copy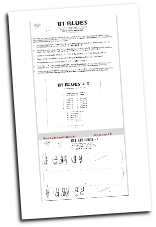 This study song uses a common riff based off the notes in the Major 6 chord of the chord change. Many other commom blues licks are used in the body of the piece. It is named after the famous "B1" blues room at the Old Town School of Folk Music in Chicago.
Bhumba Rhumba Hard Copy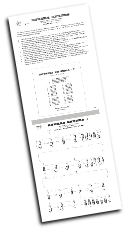 This song is a study in the straight eighth rumba groove which is NOT a shuffle or swing type of groove. The rumba groove is most commonly characterized by the riff played on page 1 and 8. This is a groove that should be in every blues harp players repertoire. . . .
Big Jim's Blues Lesson Hard Copy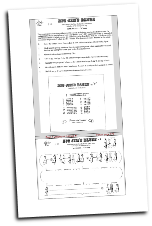 Intermediate Instruction - This lesson is a five chorus instrumental designed for an intermediate player to help develop techniques and abilities that can put the player on a path to better understand the traditional blues harmonica sound. This piece is a slow, low-down, Delta type of blues that exclusively uses the 6 note blues scale and heavily focuses on full bends on holes number 2 and number 4.
Boot Camp Tramp Hard Copy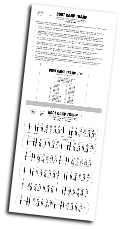 This song is a study of the straight eighth (NOT a shuffle) groove most commonly known as the "Tramp" groove from the song "Tramp," popularized by Otis Redding and Carla Thomas. . .

Buffalo Shuffle-O Hard Copy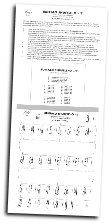 This song is a Chicago style song that uses a very common blues type of melodic head on the 1st & 6th chorus. You will hear influences by Big Walter and Little Walter. . .
Bye Bye Byrd Lesson Hard Copy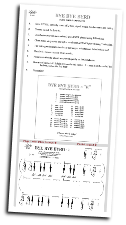 This is a beginning-intermediate, 6 chorus instrumental that focuses on the style of harp legend Rice Miller and designed to help develop techniques and abilities that can put the player on a path to better understand the blues harmonica sound.
Lesson includes the song played acoustically and played amplified in it's complete form. . . .
Chasin' Lost Sonny Hardcopy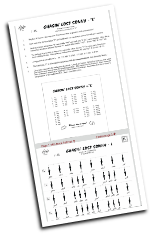 Please note that there are two things different about this song, "Chasin' Lost Sonny."
First, it is twice the price. That is because it was at least twice as hard to prepare as anything else here in the Filisko Store.
The second is that there is not a single defined final arrangement for the song but instead, numerous building blocks that you will need to arrange into your own version of Sonny's stylistic. If you goal is to capture his special style, you will need to do a lot of listening to the numerous versions of this type of piece that he recorded. Some of those are listed in the song notes. You will hear these building blocks and countless variations of them. Please also go back and review the song notes often and continually listen to the sample tracks on the CD.
E-Z BlueZ Lesson Hard Copy (not to be confused with L II E-Z BlueS with an s)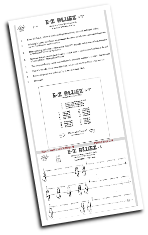 Level III Beginning-Intermediate 5-chorus melodic blues instrumental to help develop techniques and abilities that can put the player on a path to better understand the blues harmonica sound. Also a light study in the style of Walter Horton.
Lesson includes the song played acoustically and played amplified in it's complete form....
East Aurora Shuffle Hard Copy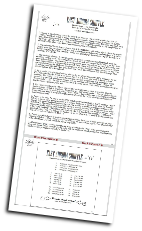 New 12-18-2013 Level III - Medium Tempo 12 Bar Blues Shuffle - This song is intended to be one of the easier Level III songs. It is actually a revised version of "Buffalo Shuffle-O" which is named after Rick Nicotra and numerous other friends in the Buffalo, New York areas. After using it for a few years, I decided to make some upgrades to it. This song very much has a Big Walter type of sound to it. The head hints of T.D.'s Boogie Woogie and is very recognizable as classic Chicago Blues that I think every blues harp player should know.
Henry's Lament Hard Copy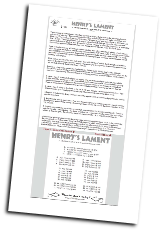 This is a study of the first known cross harp approach to playing the harmonica that was originally often referred to as "choking." Henry Whitter recorded a few versions of this in 1923 called "Rain Crow Bill Blues" and "The Old Time Fox Chase" followed by "Weepin' Blues" and "Rabbit Race" in 1924 and "Lost John" in 1925. . . .
I Need My Baby Blues Hard Copy
This song is a study of the style of Walter Horton and how we would likely play a melodic type of blues. Please pay careful attention to the anticipated / swung notes & chords, the quarter note triplets in the solo page and on page 7, and the consistent use of throat tremolo. As a long term goal, please work towards incorporating the use of bright head tones. ALWAYS be listening to Walter's recordings!!!
8 pages of instruction notations and 26 instruction tracks
I. O. U. Blues Hard Copy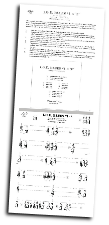 This is a study in slow blues and in developing the EP (exhale push). IOU Blues stands for Inhale Only Ultimate Blues. Most of the powerful blues sounds come from inhaling, so it made sense to me to write an inhaling only study song. This is much in the spirit of the slow blues by Little Walter, but does not have the advanced bending demands on hole 3. Be sure to read up on the Breathing Guides. 5 pages and 15 tracks.
Jail W Blues Hard Copy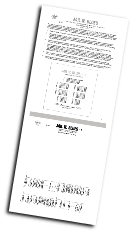 Level III - This is a study of the style and techniques of John Lee Williamson (JLW) a.k.a. Sonny Boy Williamson #1. His largely acoustic playing style may be the most imitated acoustic blues style in the 1930's, 40's and 50's. Play all clean single notes using tongue blocking and switch for hole #1. John Lee was the master at playing dirty with great precision. He even applied it to the splits not shown in this study. You should first learn this piece clean and then slowly try to incorporate in the "dirt."